Las Vegas update
Posted by Pixelhead
We made it to Vegas with very little trouble. Lizzie was a little disappointed with the room we were assigned. When she made the reservations, she requested a room in the West Wing with a deluxe pillow top King, two rooms, and two large TV's. Because there were not any non-smoking rooms available in the West Wing, we were reassigned. The new room has a king size bed, a large bathroom, and only one TV. Oh and we also have to pay 11.95 per day for Internet access.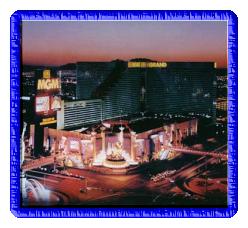 We did do some slots last night, and this morning, but no tables. We will hopefully be getting some black jack in today. We might also be getting some poker in tonight. Going to see the Blue Man Group has also been mentioned.
Written by Pixelhead on October 22nd, 2006 with comments disabled.
Read more articles on Gambling and Travel.